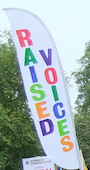 Find us via our banner on demonstrations.
Raised Voices is a political choir based in central London. Our songs are for justice, peace, climate, refugees, Palestine, women's rights and more, and against racism and any kind of discrimination. We sing on demonstrations and other public events, as well as for our own enjoyment.

See the About Us page to find out more about the choir.
New members are always welcome!
Raised Voices welcomes singers of all abilities and levels of experience. Don't worry if you haven't sung for a while or have never sung in a choir. You don't need to read music or know which part to sing – we always welcome people who prefer to learn by ear, and we will help you find your way! On the other hand, if, like some of our members, you have a great deal of musical skill and experience, you will also find a welcome with us.
We are still rehearsing on Zoom, due to coronavirus. To find out more, see Contact Us.
Scroll down this page for News.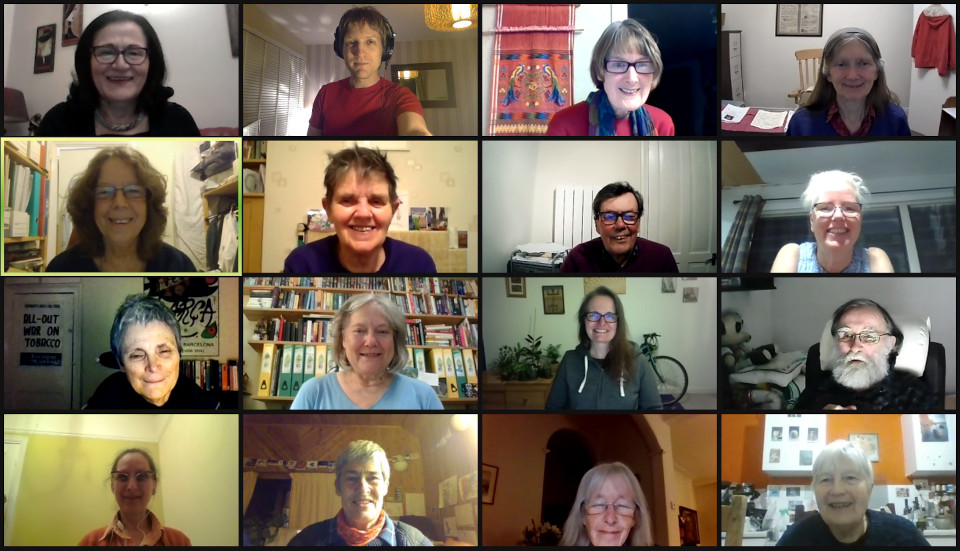 Raised Voices online rehearsal
News
Rehearsals on Zoom
Most members of Raised Voices have been able to meet on Zoom during the coronavirus pandemic. It's very different from in-person rehearsals, and we long for the day when that will be safe again. Nonetheless, on Zoom we can see each other, rehearse some of our repertoire, and learn new songs. Our Zoom rehearsal songs are chosen from those relevant to particular real world events and from others that we just enjoy singing!
Black Lives Matter
Raised Voices supports the Black Lives Matter movement and we have felt frustrated by the restrictions that have prevented us from attending recent demonstrations and protests. Five of us joined a small demonstration in Perivale, West London, in August 2020 – the organisers ensured that it was Covid-safe with masks and distancing. We hope to be able to do more soon.
Conscientious Objectors Day
We recently worked on a Zoom recording of us singing "Who do They Think They Are?", which was shown at the online Conscientious Objectors Day event on 15th May.
More photos, videos and news
Cynthia Cockburn
In March 2020, Raised Voices held our memorial for Cynthia Cockburn, a long-term member who contributed a huge amount to the choir and was also instrumental in setting up Campaign Choirs Network. Please click here to read more about Cynthia, and see photos and videos of the memorial.
Raised Voices at Extinction Rebellion protest

Watch Raised Voices sing in support of Extinction Rebellion in London in April 2019.

Raised Voices singing at Extinction Rebellion in April 2019