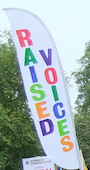 Find us via our banner on demonstrations.
Raised Voices is a political choir based in central London. Our songs are for justice, peace, climate, refugees, Palestine, women's rights and more, and against racism and any kind of discrimination. We sing on demonstrations and other public events, as well as for our own enjoyment.

See the About Us page to find out more about the choir.
New members are always welcome!
Raised Voices welcomes singers of all abilities and levels of experience. Don't worry if you haven't sung for a while or have never sung in a choir. You don't need to read music or know which part to sing – we always welcome people who prefer to learn by ear, and we will help you find your way! On the other hand, if, like some of our members, you have a great deal of musical skill and experience, you will also find a welcome with us.
To find out more, see Contact Us.
Scroll down this page for News.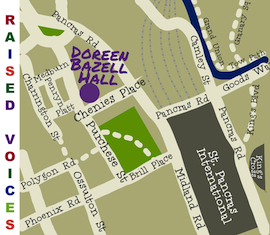 Raised Voices meets on Thursday evenings 7.30-9.30pm at the Doreen Bazell Community Centre in Chenies Place (off Pancras Road), London NW1 1UG.

More information can be found on the Contact Us page.
News
Future events
Day of Action for Peace in Ukraine
On Saturday 25th June, members of Raised Voices will be singing in support of the Day of Action for Peace in Ukraine. This event is organised by Stop the War and CND, who are demanding peace and de-escalation in Ukraine, no NATO expansion, and withdrawal of Russian troops. Join the rally from 2 to 4 pm at Downing Street.
Recent events
Demand Better! TUC march on Parliament Square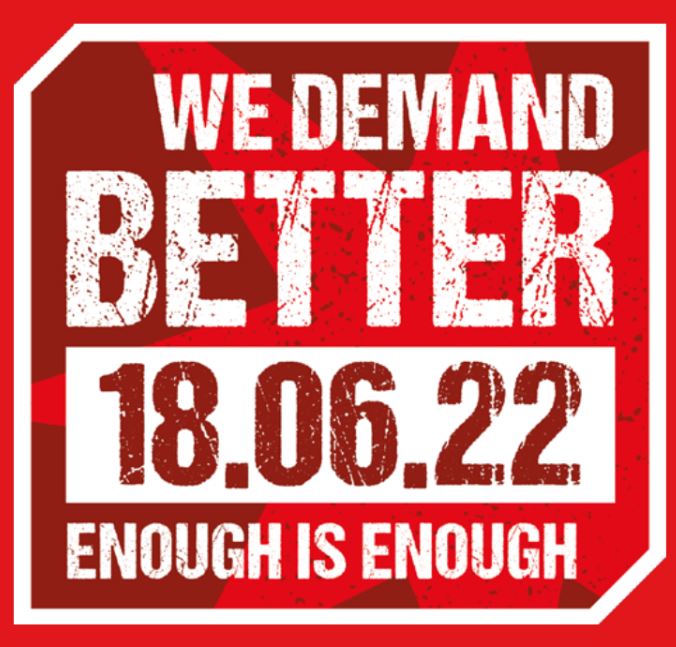 Raised Voices joined the TUC rally and march to Demand Better on Saturday 18th June to protest about the rising cost of living, stand up for the causes we believe in and Demand Better from the government. We sang at the start of the march route in Portland Place as the many thousands of demonstrators set off for Parliament Square.
March on the Met
Raised Voices supported March on the Met to remember Bibaa Henry and Nicole Smallman at Fryent Park on Tuesday 7th June at 12.30pm. It's now nearly two years since Nicole and Bibaa were tragically murdered. Police failed to respond when they went missing, then officers took 'selfies' with their bodies. Since then more then more than two hundred women have lost their lives to male violence, and tens of thousands more have experienced rape or sexual assault. Raised Voices joined those rallying at the beginning of the march to sing "Say Their Names", a song dedicated to the memory of Bibaa Henry and Nicole Smallman.
Stop USA nukes coming to Lakenheath
Raised Voices sang at the protest on Saturday 21st May organised by CND to Stop USA nukes coming to Lakenheath. RAF Lakenheath is a US Air Force base in Suffolk, which is expected to be the British site to host USA nuclear weapons.
Conscientious Objectors Day
Raised Voices sang at Conscientious Objectors Day this year, the first time the event has taken place, other than online, since 2019. The ceremony was held on Sunday 15th May in Tavistock Square, at the granite stone commemorating, "men and women conscientious objectors all over the world and in every age". During the ceremony, as well as speeches and songs, attendees laid flowers for each of 85 conscientious objectors from around the world as their names were read out.
National Demonstration for Palestine
The choir sang at the National Demonstration and March "End Apartheid -- Free Palestine", on 14th May, protesting against 74 years of Nakba (the catastrophe). We sang on the steps of All Souls Church in Langham Place before the speeches, and later on Regent's Street as the march passed by.
International Day of Action for Peace in Ukraine
Raised Voices were at Highbury and Islington station on Saturday 7th May, to sing in support of the International Day of Action for Peace in Ukraine, called by the Stop the War Coalition.
Raised Voices at Extinction Rebellion
Raised Voices took part in the latest Extinction Rebellion action in London on Saturday 9th April. We sang at Hyde Park near Marble Arch, where a march set off towards Trafalgar Square. Extinction Rebellion are an international apolitical network using non-violent direct action to persuade governments to act on the Climate and Ecological Emergency.
Stop Arming Saudi: Vigil for Yemen
On Saturday 26th March, singers from Raised Voices appeared at the Campaign Against Arm Trade Vigil for Yemen, in protest against the UK sending arms to Saudi which are being used against Yemen. The event took place at Downing Street, and Raised Voices performed a set of six songs.
March Against Racism, 19th March
Raised Voices joined Well Red choir to sing at the TUC March Against Racism - UN Anti-Racism Day National Demo on Saturday 19 March at 12 noon outside the BBC in Portland Place, London W1A 1AA
SOSNHS National Day of Action
Raised Voices joined the SOSNHS National Day of Action on Saturday 26th February at Highbury Fields. SOSNHS is demanding emergency funds for the NHS in order to save lives now, a fully publicly owned NHS to guarantee free healthcare for future generations and fair pay for all NHS staff.
Protest against the Nationality and Borders Bill
Members of Raised Voices sang at the demo against the Nationality and Borders Bill on Monday 21st February.
Two demos on Sat Feb 12th: Stop the War in Yemen, and Cost of Living Crisis
Raised Voices sang at two demos on Saturday 12th February. At 12 noon we assembled at Downing Street for the Stop the War protest against the war in Yemen and the UK's support for and supplying of arms to Saudi Arabia.
At 1pm we moved to Parliament Square to join the the People's Assembly demo protesting the Cost of Living Crisis. Stop the War called on people to support this demo under their "Cut War not Welfare" banner. Keep Our NHS Public also supported this event.
KillTheBill demo - singing for our Right to Protest
Raised Voices sang for the Right to Protest at the KillTheBill demo in Lincoln's Inn Fields, on Saturday 15th January. The Police, Crime, Sentencing & Courts Bill is an attack on our right to protest. More details about the Bill here, from the Green Party.
UK funding huge gas project in Mozambique - court hearing demo
On Tuesday 7th December Raised Voices sang in support of Friends of the Earth, who are taking the UK government to court over its proposed $1billion funding for a huge gas project in Mozambique. Mozambique needs green investment, not fossil fuel funding. At the COP26 climate talks, Boris Johnson said he was committed to curbing the climate crisis, but the UK government is pledging over US$1 billion (around £730 million) for a new climate-wrecking gas project in Mozambique. On 7 December, the first day of the hearing, activists gathered at the Royal Courts of Justice to demonstrate against UKEF's funding of the project. More details here.
More photos, videos and news
Cynthia Cockburn
In March 2020, Raised Voices held our memorial for Cynthia Cockburn, a long-term member who contributed a huge amount to the choir and was also instrumental in setting up Campaign Choirs Network. Please click here to read more about Cynthia, and see photos and videos of the memorial.
Climate Action Songs
Watch Raised Voices sing "Build a Better Future", one of our Climate Action Songs for Great Big Green Week 2021.

Raised Voices singing at this event
Raised Voices at online Conscientious Objectors Day event

Watch Raised Voices sing "Who Do They Think They Are?" recorded over Zoom, and shown as part of the online Conscientious Objectors Day.

Raised Voices Zoom recording of "Who Do They Think They Are?"
Raised Voices at Extinction Rebellion protest

Watch Raised Voices sing in support of Extinction Rebellion in London in April 2019.

Raised Voices singing at Extinction Rebellion in April 2019