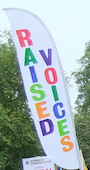 Find us via our banner on demonstrations.
Raised Voices is a political choir based in central London. Our songs are for justice, peace, climate, refugees, Palestine, women's rights and more, and against racism and any kind of discrimination. We sing on demonstrations and other public events, as well as for our own enjoyment.

See the About Us page to find out more about the choir.
New members are always welcome!
Raised Voices welcomes singers of all abilities and levels of experience. Don't worry if you haven't sung for a while or have never sung in a choir. You don't need to read music or know which part to sing – we always welcome people who prefer to learn by ear, and we will help you find your way! On the other hand, if, like some of our members, you have a great deal of musical skill and experience, you will also find a welcome with us.
We are still rehearsing on Zoom, due to coronavirus. To find out more, see Contact Us.
Scroll down this page for News.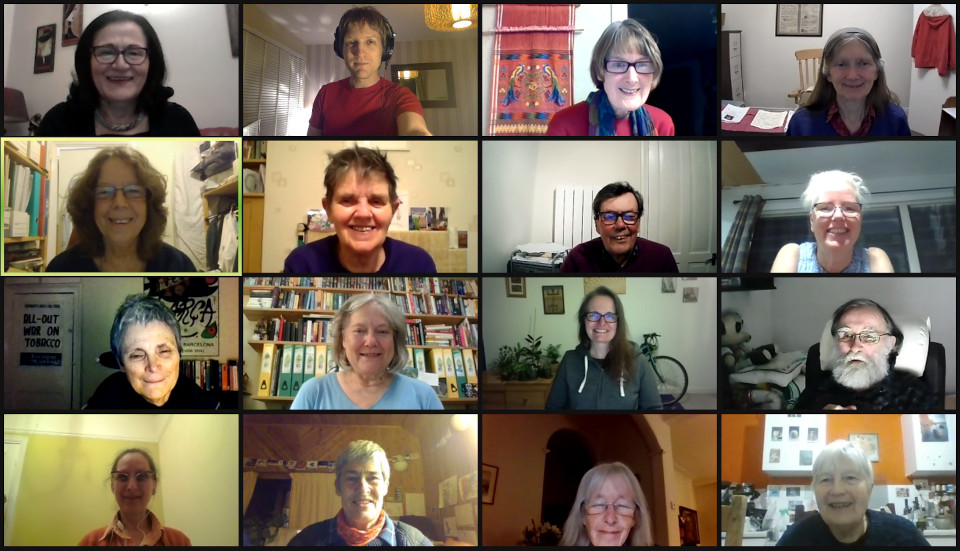 Raised Voices online rehearsal
News
Climate Action Songs – workshop and performance
This event took place at 2-4pm on 18th September during the Great Big Green Week, at Victoria Tower Gardens, Millbank. Raised Voices sang and taught songs about the climate and biodiversity emergency and songs that celebrate nature and climate activism.
A celebration of Camden – Abu Dis links
Members of Raised Voices sang a few songs from our Palestine repertoire at "A celebration of Camden – Abu Dis links" on Sunday 29th August, 2-5pm at the Calthorpe Project, Gray's Inn Road. At the event there was also a cooking demo, talks (both in person and online from Abu Dis), food, a craft stall and more.
Hiroshima Memorial Day on 6 August

This annual event took place in Tavistock Square, WC1H 9EU from 12 noon to 1pm. It commemorates the day the Atom Bomb was dropped on Hiroshima in 1945 followed three days later by the bombing of Nagasaki. The memorial event had music and speeches. Raised Voices sang three songs remembering the dead and protesting the use of nuclear weapons. Click here for the online recording of the event.
Rehearsals on Zoom
Most members of Raised Voices have been able to meet on Zoom during the coronavirus pandemic. It's very different from in-person rehearsals, and we long for the day when that will be safe again. Nonetheless, on Zoom we can see each other, rehearse some of our repertoire, and learn new songs. Our Zoom rehearsal songs are chosen from those relevant to particular real world events and from others that we just enjoy singing!
Black Lives Matter
Raised Voices supports the Black Lives Matter movement and we have felt frustrated by the restrictions that have prevented us from attending recent demonstrations and protests. Five of us joined a small demonstration in Perivale, West London, in August 2020 – the organisers ensured that it was Covid-safe with masks and distancing. We hope to be able to do more soon.
Conscientious Objectors Day
We recently worked on a Zoom recording of us singing "Who Do They Think They Are?", which was shown at the online Conscientious Objectors Day event on 15th May. Watch the recording below.

Raised Voices Zoom recording of "Who Do They Think They Are?"
More photos, videos and news
Cynthia Cockburn
In March 2020, Raised Voices held our memorial for Cynthia Cockburn, a long-term member who contributed a huge amount to the choir and was also instrumental in setting up Campaign Choirs Network. Please click here to read more about Cynthia, and see photos and videos of the memorial.
Raised Voices at Extinction Rebellion protest

Watch Raised Voices sing in support of Extinction Rebellion in London in April 2019.

Raised Voices singing at Extinction Rebellion in April 2019