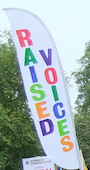 Find us via our banner on demonstrations.
Raised Voices is a political choir based in central London. Our songs are for justice, peace, climate, refugees, Palestine, women's rights and more, and against racism and any kind of discrimination. We sing on demonstrations and other public events, as well as for our own enjoyment.

See the About Us page to find out more about the choir.
New members are always welcome!
Raised Voices welcomes singers of all abilities and levels of experience. Don't worry if you haven't sung for a while or have never sung in a choir. You don't need to read music or know which part to sing – we always welcome people who prefer to learn by ear, and we will help you find your way! On the other hand, if, like some of our members, you have a great deal of musical skill and experience, you will also find a welcome with us.
We have returned to rehearsing on Zoom on Monday and Thursday evenings, as the hall is currently closed.
To find out more, see Contact Us.
Scroll down this page for News.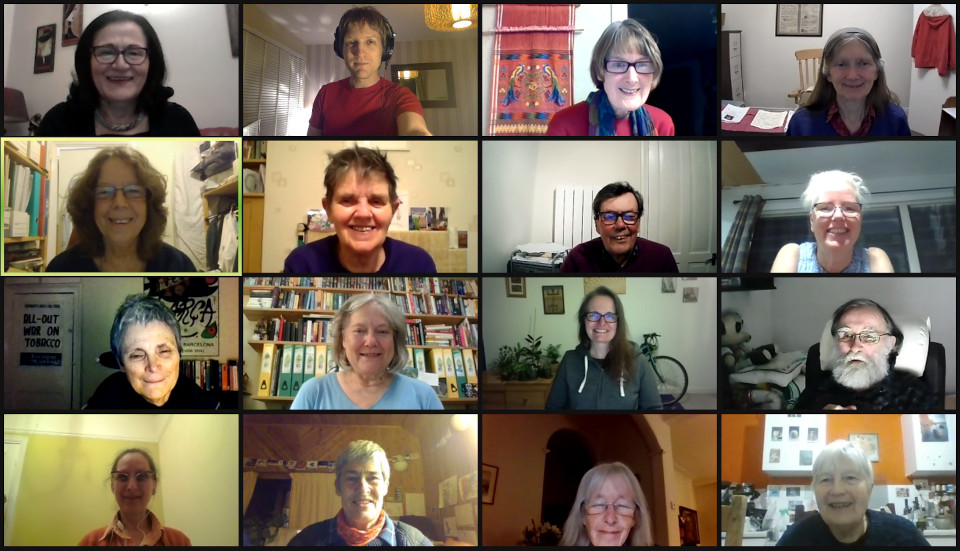 Raised Voices online rehearsal
News
KillTheBill demo - singing for our Right to Protest
Raised Voices will be singing for the Right to Protest at the KillTheBill demo in Lincoln's Inn Fields, Holborn, London, WC2A 3, from 12 noon this Saturday 15th January. The Police, Crime, Sentencing & Courts Bill is being debated in the House of Lords, with amendments made there by the Government - unless the Lords reject those amendments, the House of Commons (your elected representatives) will not get the chance to even debate them. Join the Protest this Saturday against this attack on our right to protest. More details about the Bill here, from the Green Party.
UK funding huge gas project in Mozambique - court hearing demo
On Tuesday 7th December Raised Voices sang in support of Friends of the Earth, who are taking the UK government to court over its proposed $1billion funding for a huge gas project in Mozambique. Mozambique needs green investment, not fossil fuel funding. At the COP26 climate talks, Boris Johnson said he was committed to curbing the climate crisis, but the UK government is pledging over US$1 billion (around £730 million) for a new climate-wrecking gas project in Mozambique. On 7 December, the first day of the hearing, activists gathered at the Royal Courts of Justice to demonstrate against UKEF's funding of the project. More details here.
Global Day of Action for Climate Justice
On Saturday 6th November Raised Voices joined the London demonstration as part of the Global Day of Action for Climate Justice, coinciding with the mid-point of COP26 in Glasgow, and sang a selection of songs about the climate emergency..
'Little Amal' at the Southbank
On Saturday 23rd October, members of Raised Voices sang in support of The Walk, an innovative public art project bringing together artists, community groups and humanitarian organisations. The Walk features 'Little Amal' a 3.5 metre tall puppet of a young refugee girl, representing all displaced children. There were events at The Globe at 1pm and at the Southbank Centre at 4pm. Raised Voices sang near Gabriel's Wharf at 2.30pm, as Little Amal passed by.
Climate Action Songs – workshop and performance
This event took place at 2-4pm on 18th September during the Great Big Green Week, at Victoria Tower Gardens, Millbank. Raised Voices sang and taught songs about the climate and biodiversity emergency and songs that celebrate nature and climate activism.

Raised Voices singing at this event
More photos, videos and news
Cynthia Cockburn
In March 2020, Raised Voices held our memorial for Cynthia Cockburn, a long-term member who contributed a huge amount to the choir and was also instrumental in setting up Campaign Choirs Network. Please click here to read more about Cynthia, and see photos and videos of the memorial.
Raised Voices at online Conscientious Objectors Day event

Watch Raised Voices sing "Who Do They Think They Are?" recorded over Zoom, and shown as part of the online Conscientious Objectors Day.

Raised Voices Zoom recording of "Who Do They Think They Are?"
Raised Voices at Extinction Rebellion protest

Watch Raised Voices sing in support of Extinction Rebellion in London in April 2019.

Raised Voices singing at Extinction Rebellion in April 2019