Who we are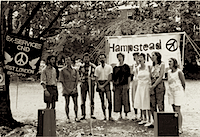 Raised Voices at a peace demo in 1989.
Raised Voices is a London-based political choir of men and women which has been in existence since 1986. We have 20–25 members.
What we sing
We sing a continually developing repertoire of left, social justice, environmental, anti-war, feminist, internationalist, anti-racist and other political songs, including songs from other cultures and languages.
Have a look at our Music page for samples of our songs.

Raised Voices busking at Piccadilly Circus.
Where we sing
We sing for many causes and also for our own enjoyment.
We perform at political and cultural events and benefits. We often join demonstrations as a group, distributing a song sheet and encouraging others to sing along with us. Sometimes we go busking on the street, especially in the summer months, to collect for an agreed cause.
For demonstrations and other events we often join up with other, similar, London-based choirs.
Our Events page holds more information about recent and upcoming events.
How we organise ourselves
The choir is run as a collective, with shared responsibility and decision-making, although we also employ a musical teacher.
Everyone is invited to take a share in organising the choir (though not usually in their first year, unless they wish to), and we encourage shadowing and job-sharing to help beginners gain confidence to take on roles.

Find frequently asked questions and their answers on our Contact page and/or read our full FAQs and more information.